The 2021 Subaru Love Promise Community Commitment Award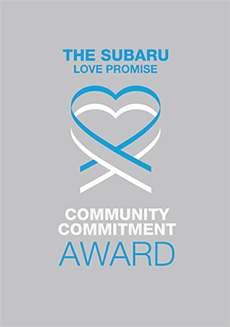 We've been nationally recognized for our dedication to our community and the Subaru Love Promise.
We're honored to receive the 2021 Subaru Love Promise Community Commitment Award. This award nationally recognizes Subaru retailers who are making the world a better place while demonstrating an outstanding commitment to supporting passions and causes in local communities. These efforts are focused in important areas such as the environment, community, health, education, and pets.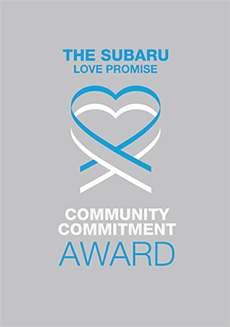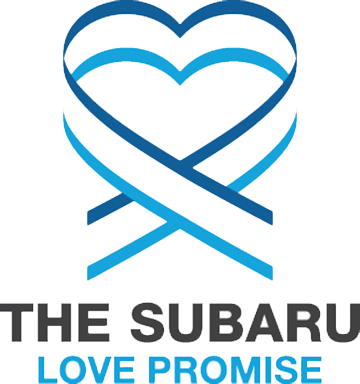 What is the Subaru Love Promise?
Subaru and our retailers believe in making the world a better place and the Subaru Love Promise is our vision of respecting all people. This is our commitment to show love and respect to our customers and to work to make a positive impact in the world.
How is Casey Subaru dedicated locally to the Love Promise?
Our Love Promise can be seen in various partnerships with local charities and non-profits. We're grateful for the opportunity, not only to be a part of our community, but to serve it as well.
Peninsula Regional Animal Shelter
Love Promise Stories from Casey Subaru
Subaru and Casey Subaru believe in making a positive impact on the communities in which we live and work. We uphold that belief through our Love Promise Community Commitment. Every month, we select inspiring stories from customers and partners from around our area who strive to support our collective commitment and feature them here
VA Peninsula Food Bank - MELISSA H
Throughout the months of December and January, Casey Subaru collected monetary donations & non-perishable food items for the Virginia Peninsula Foodbank. Being a part of the effort to support our local community is an honor & we look forward to continuing our partnership.
---
Casey Cares Medical Fund Saves PRAS Animals - Tiffany W
Tinkerbell came to our shelter as a stray with severe injuries to her rear leg. Her original intake date was the middle of July and was not officially adopted until 10/07/2020. It is always sad when any dog comes in injured but especially one at such a young age that has not even had a chance to enjoy the finer things of puppyhood. Tinkerbell had to miss out on most of that as our team worked to get her the best medical care we could. A huge thanks to our local retailer Casey Subaru who we have a Casey Cares medical fund account that supported all of the financial burden for her care. This life saving partnership allowed us to take all the appropriate medical steps for Tinkerbell as we worked to try to save her leg. Ultimately the end result was amputation; however, Tinkerbell is more than satisfied with that. She is living it large with an amazing adopter who sends regular updates to her foster of how much fun Tinkerbell is having.
---
Toys for Tots! - MELISSA H
During the month of November, Casey Subaru collected new, unwrapped toys for Toys for Tots. Thank you to everyone who donated and added toys to our Subaru Outback display in our showroom. Your donations will help provided new toys to families in need on the Peninsula this holiday season.
---
Spreading the warmth! - MELISSA H
Participating in the Subaru Loves to Help Event has always been a yearly tradition at Casey Subaru, and this year was no exception. Holly Rogers, who is our Subaru Delivery Specialist, dropped off blankets to the Four Oaks Day Service Center right here in Newport News. These warm blankets are sure to bring warmth to those in need in our community. Spreading joy and kindness will always bring a smile to someone face and we are proud to be the ones delivering it.
---
Make a Dogs Day-Peninsula Regional Animal Shelter - MELISSA H
This year for #MakeADogsDay, Casey Subaru sponsored adoptions at the Peninsula Regional Animal Shelter for the month of October. We exceeded the number of adoptions originally set and decided to extend the sponsorships to help more animals find their furver homes. In keeping with the #SubaurLovesPets Promise, we will continue to support the Peninsula Regional Animal Shelter for years to come!
---
Making Strides Against Breast Cancer - MELISSA H
We are proud to once again be a Flagship Sponsor for the Making Strides Against Breast Cancer of the Peninsula Event. Although this year's event is virtual, the American Cancer Society still has a lot of work to do and they still need your donations as well as fundraising efforts! Every dollar counts towards finding a cure, and helping those in their fight against breast cancer.
---
2020 Polar Plunge in VA Beach - MELISSA H
Ed Colton and his team participated in the 2020 Polar Plunge in VA Beach this past weekend! Ed and his team raised $12,484 for the Champions of Special Olympics Virginia. The Festival raised over $1.3 million for Special Olympics Virginia. Congratulations to Ed, his wife Julie (Casey Auto Group Corporate) and their team! We are so proud of you and your support of this fantastic cause!
---
Adoption EVENT! - MELISSA H
In collaboration with the Peninsula Regional Animal Shelter, we hosted an adoption event at Casey Subaru! We had several pets on site looking for their furever homes and we even had a few adoptions take place! We can't thank everyone enough who helped make this event fantastic!
---
Peninsula Regional Animal Shelter - Brittany O
We dropped off our pet supply donation of over 100 items to the Peninsula Regional Animal Shelter! Thank you to everyone who stopped by the showroom to donate during the Subaru Share the Love Event!
---
Meals on Wheels - MELISSA H
Gerald Patesel, Vice President of Community Services with Peninsula Agency on Aging, came by to thank us for Casey's contribution to Meals on Wheels through our Share The Love Event! Casey's continued support of Meals on Wheels goes directly to assist the seniors in Newport News.
---
Subaru & LLS Deliver Blankets to Cancer Patients - Khiem T
On July 9th, the LLS Virginia Chapter and Casey Subaru had the pleasure of delivering 80 blankets to Riverside Cancer Center as part of the Subaru Loves To Care program. These comforting gifts were accompanied by personalized messages of hope written by the customers and staff of Casey Subaru. This incredible act of generosity was warmly received by the Riverside Cancer Center staff who were thrilled to distribute these comforting gifts to their patients. LLS is proud to partner with Subaru to spread hope, love and warmth to those fighting cancer, across the country and right here in the Newport News, Virginia community. Many thanks to everyone at Casey Subaru and Riverside Cancer Center, not only for a memorable day, but for supporting LLS's mission to cure blood cancers and improve the quality of life of patients and their families.
---
Casey Subaru Staff Delivers Warmth - MELISSA H
Partnering with the Leukemia & Lymphoma Society (LLS), Casey Subaru continues to deliver warmth in more way than 1 year after year. It may be the middle of July and about 100 degrees in Newport News, but inside the Riverside Cancer Care Center, you'd never know. Patients were overjoyed to receive warm blankets from our staff members and appeared as though they were just as ecstatic to be delivering warm blankets as well as a kind smile.
---
RELAY FOR LIFE - MELISSA H
Ed Colton, our Subaru Service Manager, participated in a golf tournament benefiting RELAY FOR LIFE in July 2019. Ed, along with his fellow teammates, played in the brutal summer heat for a fantastic cause and enjoyed every second!
---
Casey Subaru LOVES PETS - MELISSA H
In April 2019, Casey Subaru hosted a Subaru Loves Pets Adoption Event! We were able to stuff a Subaru full of pets supplies for our local SPCA here in Newport News!
---
Going Above And Beyond - Bob and Betty Ann G
Travis, I want to thank you for helping us get in a Subaru Forester this weekend. The experience was very pleasant and resulted in making me a customer for life. Your sales team went to great lengths to make sure we understood prices, car features, and maintenance plans. After we had been looking for several hours and appeared to reach an impasse due to the orange trim in the Sport Model, the sales manager (Terry, I think) worked out a trade deal with a dealership in Virginia Beach to get a model and color scheme that did not offend the wife's sense of style. Then Felix spent an hour and a half as he went over and picked it up. While we waited, another team member took me out to pick-up dinner. Even though the dealership was closed, Felix spent an hour getting the car ready and going through the software features of the new model and the staff stayed to complete the transaction. In the end, we got a fair trade for our 2014 Forester, had a coupon from corporate Subaru for our trouble, and left with a car that I am sure will provide us years of good service and a CVT backed by Casey for the life of the vehicle. We came in feeling frustrated like we had not gotten the expected value from our 2014 Subaru but left 7 hours later feeling happy and like we received a good deal for being loyal customers. Many thanks to all involved and congratulations on instilling the value of customer service up and down your team so deeply. Cheers! Bob & Betty Ann Galway
---
27th Annual VA Beach Polar Plunge Festival - MELISSA H
Ed Colton, our Subaru Service Manager, and his team participated in the 2019 Polar Plunge in VA Beach. Ed and his team raised $14,000 for the Champions of Special Olympics Virginia. The Festival, with its 3,498 participants, raised over $1.23 million for Special Olympics Virginia. Congratulations to Ed and his team! We are so proud of you and your support of this phenomenal cause!
---
Subaru Adoption Event - Brigette D
The Peninsula Regional Animal Shelter has partnered with Casey Subaru for the Subaru Loves Pets campaign. To kick off this event, Casey Subaru hosted an on-site adoption event at their dealership. Goodies for both people and animals were provided, a wheel to spin and fantastic prizes were just a few of the ways Casey Subaru made the event fun. Radio station 93.7 BOB FX ran a few Facebook live videos helping to promote the shelter and the animals we brought. Thanks to everyone's collaboration we were able to adopt 2 of our shelter pets that were brought to the event. Many more were adopted that day from the shelter due to the publicity from the Subaru event!
---
Youth Volunteer Corps of Hampton Roads - Sherry G
Casey Subaru sponsored the the YVCHR's Tuff Enuf 5k Obstacle Run on October 20th which took place at Mariner's Museum Park in Newport News. The event featured three races miles of fun obstacle courses and challenges. Although the rain had a slight impact on participation, there was still a great turnout!
---
Benefiting St. Mary's - Ed C
Ed Colton (Service Manager) and some other Casey Subaru employees teamed up to participate in Saint Mary's Star of the Sea school in Hampton. The annual golf tournament helps raise funds for the school's programs. Once again, Casey teams up to support the local community!
---
SUBARU/LLS BLANKETS AND WARMTH TO CANCER PATIENTS - Khiem T
Partnering with the Leukemia & Lymphoma Society (LLS), it is clear from the letters to patients to the full table set up you see from the moment you walk into Casey Subaru, the message is loud and clear that Subaru does, in fact, love to care. As true as this statement may be I don't think the staff at Casey Subaru knew exactly what impact their caring was about to have. When you walk into Riverside Cancer Care Center you almost forget that it's a place to go for treatment of a terrible disease. But upon entering the outpatient treatment floor you quickly see what is happening there on a daily basis. Almost everyone you see is hooked up to a machine and wearing warm clothes and a head covering. It may be the middle of July but inside you'd never know. We go into the room where a woman the staff calls "The Subaru Lady" is. She knows that LLS and Subaru have partnered but has no idea what to expect. All she mentions is how much she loves her Subaru. When Travis and Cam, our Subaru representatives, walked into The Subaru Lady's room no one was prepared for the radiant joy that showed throughout her face. She was so excited and couldn't believe that someone was taking the time to do such a thoughtful thing for her. Her giddy grin only grew as she read the card handwritten from a Subaru customer. To know that in that moment this woman wasn't fighting for her life but enjoying a sweet gift from a stranger was just a beautiful moment to behold and one of the reasons that we are reminded every day that we are the ones in fact receiving gifts.
---
Casey Subaru Supporting the USO - Brittany O
Casey Subaru was proud to support the USO of Hampton Roads and Central Virginia through our Cookout For The Troops Event on Saturday the 21st. This event was held at Casey Subaru where military families were offered free food and beverages as a small gesture of our appreciation of their service and sacrifice. Others were asked to provide a small donation to enjoy a meal. For every test drive taken that day, Casey Subaru donated $25 to the USO. We were able to raise over $3,500 for the USO. Thank you to everyone who participated and made this event a success!
---
ET's Beacon of Hope Golf Tournament 2018 - Melissa H
Several members of our Casey Subaru Team, including Service Manager Ed Colton and CEO Doug Lia, joined forces again this year for the ET's Beacon of Hope Golf Tournament at the Woodland's Golf Course in Hampton. For 7 years, this group, representing Casey Subaru, has played to support American Cancer Society Relay For Life Fundraiser in honor of Eddie Trevathan. This year, 2018, the tournament was able to raise $14,000! Thank you to all Casey employees who participated for taking the time to support such a fantastic cause!
---
Casey Subaru Visits Riverside Cancer Care Center - Melissa H
Casey Subaru General Manager, Travis Wynn, and his staff visited the Riverside Cancer Care Center in Newport News. They arrived with blankets in hand to distribute to patients undergoing treatment, as well as arts and crafts supplies for the children. Thank you to the Casey Subaru staff for taking the time to bring some warmth and happiness to the patients of our neighbors at Riverside!
---
Meals on Wheels - Melissa H
Casey Subaru donated all of the money raised during the Share the Love Event to Meals on Wheels. The Peninsula Agency on Aging, established in 1974, provide programs in cooperation with other community agencies in Hampton, Newport News, Williamsburg, Poquoson, and James City and York counties to assist older Virginians in independent and productive living. The agency is a clearing-house for information, coordinates services, and provide planning and leadership on aging issues.
---
Valued Customer - Eric V
"In my long experience, pledges of customer satisfaction are often empty and meaningless. Not so with Casey VW-Subaru...You've treated me like a valued customer, answered all of my questions with patience, and offered quality loaners when needed." He then went on to say, "a huge thanks to John (Reese) and the technicians for taking the problem as seriously as I did, and then fixing it. For me, it was the biggest test to date of a true commitment to customer satisfaction, and Casey passed with flying colors." This gentleman has been a loyal Casey Subaru customer for over two years now and would also like to thank Travis Wynn, Tish Perkins and Jeff Motley for treating him with the same respect and patience during other visits. Thank you for your patronage and thank you to Casey Subaru employees who always strive to provide a great customer experience!
---